Conversion rate optimisation (CRO) has become an essential part of any successful online marketing strategy.
However, it is also a strategy that many businesses are still struggling to get right. CRO can help you increase your conversion rates, but it's not easy. You need the best tools to make CRO work for you and generate more customers online. That's why CRO tools can be used to analyse data, find areas that need improvement, and keep existing customers engaged while finding new customers who are likely to become repeat customers. CRO tools can also help you optimise your website and generate higher conversion rates for each customer. This blog post will discuss the top CRO tools on the market today, so you know which ones to use!
However, it is essential to remember that CRO is more than just a tool – it's a mindset!
Google Analytics
Google Analytics is the first free CRO tool. Even though it's completely FREE, It also provides valuable information about your customers and how they interact with your website, allowing you to improve their experience. For example, you can see what pages are visited more often than others or where users leave without converting into a lead. With that data, you can identify what needs to be improved and track the changes that you've made. Additionally, Google Analytics can create custom reports for CRO data analyses.
Analytics can also show you how engaging your content is, therefore, who's visiting your website and who's coming back. The tool also measures how much time your visitors spend on the website, their location, the device they use and what other channels bring them to your website.
To make the CRO process even smoother, Google Analytics has several CRO tools integrated into it like Goals or Event tracking, which you can set up with just a few clicks. Moreover, CROs should be able to test the data quickly.
Unbounce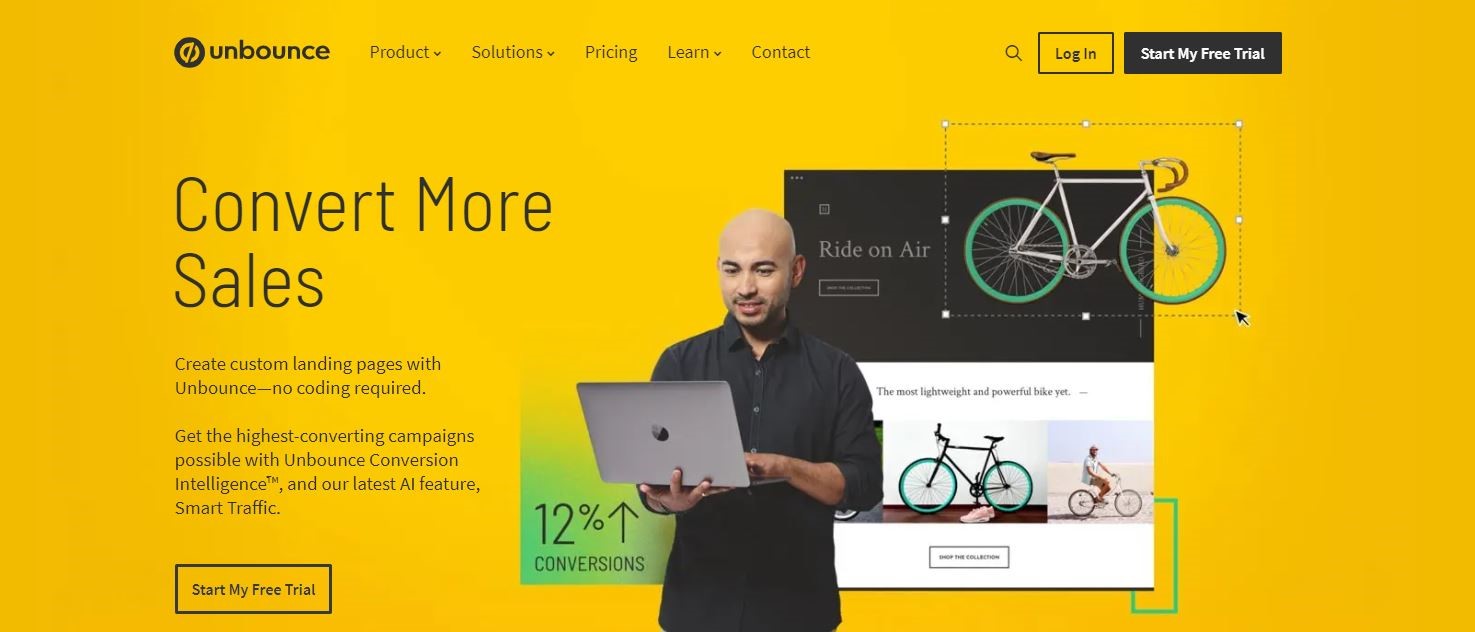 The following tool is Unbounce. Unbounce provides a FREE 7-day trial, it is also an easy-to-use CRO tool that helps you create, publish and test landing pages without touching a line of code (however, if you are a more experienced developer, they do offer plugins for WordPress). With this CRO tool, marketers can build customised forms along the way to capture user data. Unbounce integrates seamlessly with Google Ads and more various other popular networks.
Unbounce comes with pre-designed templates so you can create landing pages quickly and easily. It is a user-friendly CRO tool that allows marketers to concentrate on the results rather than coding or design skills.
Moreover, Unbounce CRO tool provides a wide range of analytics tools to set up conversion funnels and track your CRO efforts.
Landing pages are one of the essential aspects of CRO as they increase conversions, sales or subscribe rates for newsletters. They enable you to test headlines, content variations and layouts before publishing them on your website with accurate user data
Google PageSpeed Insights
Google PageSpeed Insights is another great, FREE CRO tool that gives you insight into how well your page loads from mobile and desktop, which is crucial in modern times, with people using mobile phones more often and readily than desktops. It analyses a site's content and collects and displays information by interpreting it on a web page. The tool analyses it to see any areas for improvement or optimisation by generating suggestions that can help you speed up your site. We love Google tools because they give you actionable advice with specific ways to improve your CRO.
Google PageSpeed Insights also offers a plugin that will give you a grade and provide suggestions to improve the CRO of your site. If you have tried other CRO tools, this is another excellent option for FREE!
Google PageSpeed Insights – Learn how changing different elements on your page affects its speed by running it through Google's PageSpeed Tools. You can run individual pages or groups of pages through the tool, and it will give you suggestions on CRO.
HotJar
Hotjar is yet another, FREE CRO tool that records your visitors and provides you with heatmaps, inactivity recordings, surveys forms and more. It lets users see what people are doing on their website (mouse movements, clicks and more) without installing any code or cookies.
In other words, HotJar lets you see the sections of your page that got the most clicks, the point when visitors leave the page and the elements that record the most user interactions.
Additionally, HotJar comes with conversion rate optimisation tools that provide data on your average session duration and user paths. For example, it enables CRO analysts to gather insights about the drop-off rates of different website pages or identify if visitors are scrolling down into a specific section of the page (like an FAQs) that is supposed to be scrolled out of the way.
If you are looking for CRO tools that provide inactivity recordings, heatmaps and conversion rate optimisation, HotJar is one to check out!
Google Optimize
Google Optimize is a CRO tool that allows you to run five A/B tests and experiments on your website, and it is a perfect tool for small businesses or startups. Google Optimize works across devices, allowing you to see how changes perform both on desktop and mobile. You can also use it with an existing analytics solution like Google Analytics or Adobe Analytics (formerly known as Omniture). This CRO tool is available for free, but you can always upgrade it to a more advanced version if you would need it.
Google Optimize also allows you to embed CRO experiments directly on your site with just a few code lines. You can also use Google Optimize for CRO in combination with other tools.
Google Optimize is a free CRO tool that provides you with all the features needed for your business to improve its conversion rate and get more customers through online marketing campaigns. It's straightforward to use, there is no need for technical skills, and it has a clear interface.
Google Optimize CRO tool is one of the best CRO tools out there. It works on all devices (desktop, tablets or mobile), making it even more attractive for small businesses that want to improve their CRO without investing in its expensive CRM tools.
Conclusion
The list concludes the ONLY conversion rate optimisation tools you would ever need for your website to generate more organic traffic and leads.
Each one of the tools above is useful in its way; each tool listed provides different information that you will need to run a successful website, whether it's a data analyser, a landing page tool or a user behaviour track tool.
All of those tools combined will provide the best experience, not just for you and your team, but for the visitor of your website.
In conclusion, CRO is more than just a marketing tool; CRO will help you create the best website possible and improve your business.